Tour Suggestions
The Great Taste Trail Tour - 5 days/5 nights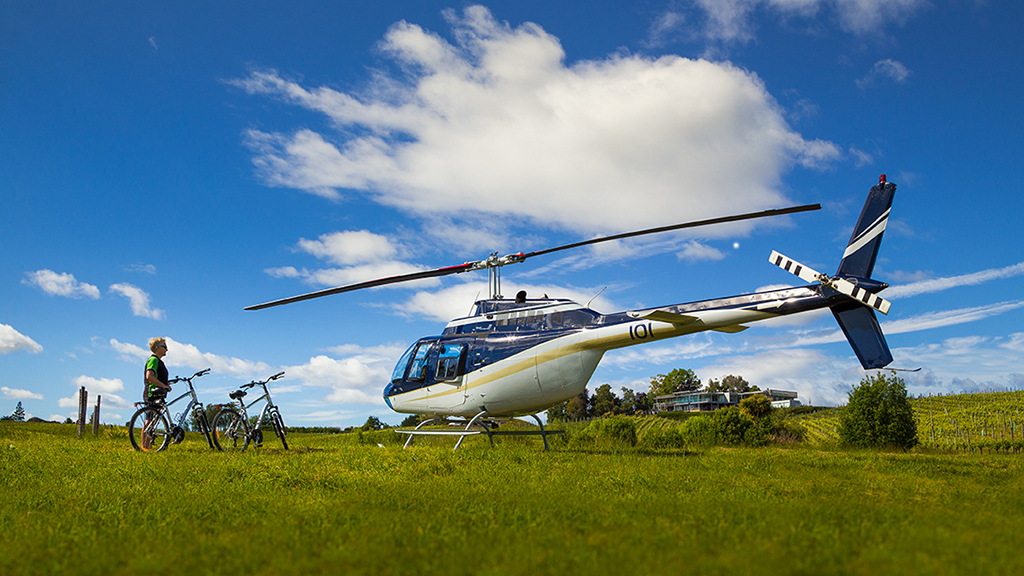 Our 5 day range of bike tours allows our guests to enjoy the diverse characteristics of the trail and its surrounding area. One possible itinerary could be –
Day 1 – Nelson to Wakefield and Spooner's tunnel, including stop offs at cafés, the unique World of Wearable Art & Classic Car Collection, wineries, brewery and places of historical interest. (35-55kms). Beyond Wakefield is Spooner's tunnel, which is the longest cycling tunnel in the southern hemisphere (and fifth longest in the world!).
Day 2 – Enjoy the tranquility of the beautiful Motueka valley with its majestic river. Finish at the golden beach at Kaiteriteri. (35 - 45kms). Option to stay at Kaiteriteri for a second night to enjoy a day in the Abel Tasman National Park, before continuing on the cycle trail the following day.
Day 3 – Cycle from Kaiteriteri to Mapua. This is one of the favourite sections of the trail for both locals and tourists. The many cafés and changing scenery along this 43 km section, provide a memorable day along the trail. The vibrant village of Mapua offers lots of options for sampling the flavours of the region, with cafés, restaurants, a brewery and wine bar in the village and the wharf area.
Day 4 – Cycle to the Moutere region, enjoying quiet country back roads, vineyards, orchards, hop gardens as well as stops at studios and galleries as well as outstanding Nelson wineries and New Zealand's oldest pub with a large selection of local craft beers. Return to Mapua and enjoy another easy evening around the wharf, with several more dining options to choose from.
Day 5 – Cycle from Mapua to Nelson (or the airport). Follow the coastal section of the trail, through Rabbit Island and along the edge of the Waimea estuary, towards the town of Richmond and then along a railway reserve to Nelson. (35kms). Alternatively you could do a circuit, finishing at Mapua, where we can arrange a late check out if that helps with your onward travel arrangements.
What's included
Premium Tour
• Five night's accommodation in 4 and 4+ star boutique accommodation with breakfasts
• Five days trail bike, helmet, puncture repair kit and hi viz vest hire.
• A souvenir water bottle and a premium welcome goody bag with a 'taste of the region'
• A choice of day pannier bags or touring pannier bag
• Luggage transfers with baggage allowance of up to 2 bags per person
(max weight 15Kgs per bag)
• Route maps and bespoke route notes to help you discover hidden gems and other places of interest.
• One way ferry ticket to Rabbit Island
• Discount vouchers for local wineries, restaurants and cafes
• A dedicated tour manager and support service throughout the duration of your tour
• Airport pick up and drop off if you want your tour to start or finish at the airport
Price: From $1850 per person. Solo traveller and children under 12 POA. Discounts available for larger groups (more than 6 people)
See also what other upgrades you could enjoy
• Premium Plus - Accommodation in unique locations and high quality accommodation
• A day or more in the Abel Tasman National Park. This can be added in to your itinerary as an extra day or it can replace a cycling day. Cruise, walk and/or kayaking combinations are available.
• Gourmet rendezvous picnic lunches or packed lunches can be arranged
• Private wine tastings
• Extra cycling days
• Enjoy a guided day ride with one of our experienced guides who can help you explore hidden gems of the region on a back road adventure
• Heli-tours with or without cycling
• E-maps, load your personalised tour onto your phone or tablet
Standard Tour
• Five night's accommodation in motel rooms or ensuite cabins
• Five days trail bike, helmet, pannier bag, puncture repair kit and hi viz vest hire.
• A water bottle
• Luggage transfers with baggage allowance of one bag per person (max weight 15Kgs per bag)
• Route maps and notes to help you discover hidden gems and other places of interest.
• One way ferry ticket to Rabbit Island
• Discount vouchers for local restaurants and cafés
• A dedicated tour manager and support service throughout the duration of your tour
• Airport pick up and drop off if you want your tour to start or finish at the airport
Price: From $1445 per person. Solo traveller and children under 12 POA. Discounts available for larger groups (more than 6 people)
See also what other upgrades you could enjoy
• A day or more in the Abel Tasman National Park. This can be added in to your itinerary as an extra
day or it can replace a cycling day. Cruise, walk and/or kayaking combinations are available.
• Extra cycling days
• Enjoy a guided day ride with one of our experienced guides who can help you explore hidden gems of the region on a back road adventure
• Heli- tours with our without cycling
• E-maps, load your personalised tour onto your phone or tablet
• Extra baggage transfer